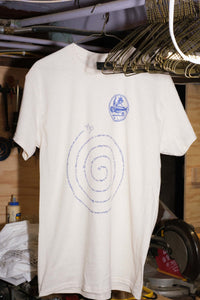 Regular price
Sydney S. Kim Bookshirt
---
The Capricorn Knight by Sydney S. Kim is a mythological mini story written in spiral and wave forms. Printed on both front and back in royal blue on a natural cotton shirt. 
"It began deep in her belly: the sound of the sea. The Capricorn knight had heard it only once before, when the water maiden held a conch to her hairy ear. The sea beckoned for months, roiling louder as it calcified in her gut. A bezoar of a different sort, one she could neither expel nor pass..."
What is a bookshirt? A book that's a shirt. Much like a fish growing legs and walking on land, so too the page must grow legs and learn to walk around. The bookshirt is an experiment in imagining a book as a shirt. How does a poem change when it follows you through your day, when you read it waking up, backwards through a mirror?
100% Cotton
Unisex sizing